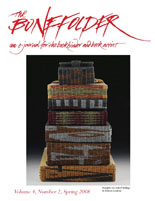 Coming back to the roots of this blog: the new issue of
The Bonefolder - an e-journal for the bookbinder and book artist
is already available.
About the magazine:
"The
Bonefolder
, an outgrowth of the Book Arts Web, is a peer-reviewed "open-access" e-journal for bookbinding and the book arts. Since fall of 2004, the
Bonefolder
has reached a global audience and contributed to the body of knowledge in the book arts both theoretically and practically."
And, by the way, The Bonefolder is listed in the
Directory of Open Acess
Journals.
This issue content:
Women and Books – Muriel Prince
Collaborating with the Dead – Maureen Cummins
The Codex Foundation, an interview of Peter Rutledge Koch
Cairo in August – Julia Miller and Pamela Spitzmueller
A New Variation on Board Slotting – Angela M. Andres
The Twined Binding – Roberta Lavadour
Variation on the Split Board Binding – Don Rash
Board Book Adhesive Binding – Leigh Craven
Book Review of Jadwiga Jarvis' The Wayzgoose Affair – Carolynne Skinner
Book Review of Mirjam Foot's Bookbinders at Work – Pamela Barrios
Advertise in the Bonefolder
Submission Guidelines
2008 Bind-O-Rama Guidelines